Gina Torres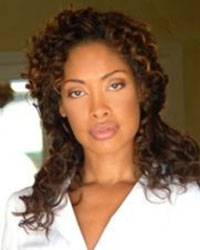 Statistics

Name
Gina Torres
Gender
Female
Date of Birth
April 25, 1969
Place of Birth
Manhattan, New York
Characters
Zoë Alleyne Washburne
Gina Torres (born April 25, 1969) is an American television and movie actress. Born in Manhattan, New York, to Cuban parents, Torres is the youngest of three children. A gifted mezzo soprano, she began her performing career as a singer, attending Fiorello H. LaGuardia High School of Music & Art and Performing Arts in New York City. Torres also trained in opera and jazz, and she performed in a gospel choir. Not able to afford a college education, Torres chose to pursue her dreams of becoming a performer instead.
Torres is best known for her roles in science-fiction and fantasy. She has appeared in many television series, including Hercules: The Legendary Journeys (as Nebula), Xena: Warrior Princess (as Cleopatra), the short-lived Cleopatra 2525, as well as Alias (as Anna Espinosa), Firefly (as series regular Zoë Washburne), Angel (as Jasmine), and The Shield. She portrayed Julia Milliken in several episodes of the third season of 24.
In 2001 she won the ALMA Award for Outstanding Lead Actress in a Syndicated Drama Series for her role in Cleopatra 2525. In 2004, she was nominated for the International Press Academy's Golden Satellite Award for Best Performance by an Actress in a Supporting Role in a Series, Drama, for her role as Jasmine in Angel.
Her film appearances include The Matrix Reloaded and The Matrix Revolutions, where she met Laurence Fishburne. Torres and Fishburne were engaged in February 2001 and married in September 2002 at The Cloisters museum in New York City.
In 2004, Torres appeared in seven episodes of the third season on 24 as Julia Milliken, a woman who has an affair with the White House Chief of Staff and becomes involved in a Presidential scandal. In 2005 she was tapped for the pilot episode of Soccer Moms. Also in 2005, she voiced the character of Vixen in numerous episodes of the animated series Justice League Unlimited and replacing the voice-over of Jada Pinkett-Smith's character Niobe in The Matrix Online. She reprised her Firefly role as Zoë in the film Serenity.
In 2011, she commenced a regular role as Jessica Pearson in cable series Suits.
External links
Edit