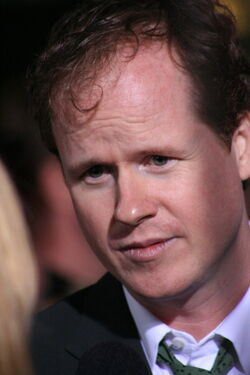 Joss Hill Whedon (born Joseph Hill Whedon on June 23, 1964 in New York) is the creator and co-executive producer of Firefly.
Whedon also created Buffy the Vampire Slayer, Angel and Dollhouse, and has written several film screenplays and comic book series. He was educated at Winchester College in England and received a film degree from Wesleyan University in 1987.
After moving to Los Angeles, California, USA, Whedon secured his first writing job on the television series Roseanne. After several years as a script doctor, he went back to TV, where he created three cult TV shows.
In 2002, Firefly, which Whedon produced with Tim Minear, was canceled by Fox after only 11 episodes had been aired, out of intended sequence, from a total of only 14 produced (including the original two-hour pilot, which was the last episode to be aired on Fox). The treatment that Firefly received at the hands of Fox executives has caused Whedon to state that he refuses to work with Fox again, under any circumstances.[1]
Whedon had been writing a movie script based on the TV series for Universal Studios for about a year when the Firefly series was released on DVD. The excellent sales of the DVD set ensured the movie would be produced, and in early 2004 Whedon announced that his proposal for a Firefly movie had been greenlighted by Universal. Shooting started in July 2004, and the film, Serenity, went into wide release in the United States on September 30, 2005 to widespread critical and fan acclaim, but mediocre results at the box office.
The three-issue miniseries Serenity: Those Left Behind, leading up to the film Serenity, was released June through August 2005. Co-written with Brett Matthews and penciled by Will Conrad, the first issue featured covers drawn by John Cassaday, J. G. Jones, and Bryan Hitch, as well as other artists for the second and third issues. The first two issues sold out and went to a second printing. The trade paperback featured a new cover by acclaimed painter Adam Hughes.
Whedon has mentioned that more Serenity comics are planned for the near future, and will be based in the Firefly continuation of the series.
Title
Released
Role(s)
Roseanne
Writer
Parenthood
1990
Writer
Buffy the Vampire Slayer
1997-2003
Creator, stories, writer, director
Angel
1999-2004
Co-creator, writer, director, producer
Firefly
2002
Creator, stories, writer, director, music[2]
The Office
Director
Dollhouse
2009
Creator
| Title | Released | Role(s) |
| --- | --- | --- |
| Buffy the Vampire Slayer | 1992 | Writer |
| Speed | | Uncredited Writer |
| Waterworld | | |
| Toy Story | | |
| Twister | | |
| Alien: Resurrection | 1997 | Writer |
| Titan A.E. | | |
| X-Men | | |
| Atlantis: The Lost Empire | 2001 | Story treatment |
| Serenity | September 30, 2005 | Writer, director |
| Wonder Woman | | Rejected script |
| Goners | | |
Community content is available under
CC-BY-SA
unless otherwise noted.