Lilac
Moon information
Lunar ID

S/2170(New Canaan)02

Planet orbited
Date terraformed
Diameter

4,830km

Mass

8.508x1020 tonnes

Gravity

0.9908G

Orbit

238,328km

Period (days)

16.93

Population

150,000

Affiliation
Lilac is the second moon of New Canaan in the Blue Sun system. S/2170(New Canaan)01 was discovered in 2170.
Overview
As it turned out, Lilac is more like a planet of the headiest, dankest catnip. A small crop moon, Lilac glows with heat. Most of the farmers wage a continual war against the elements, and what crops they do bring in are generally self-sustaining. There are some locations on Lilac where the rain falls on a regular basis and the sun nurtures the crops, not fries them. Farmers lucky enough to have land here do very well for themselves.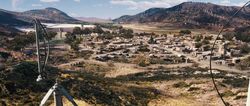 Lilac is located on the edge of what has now become Reaver space. Several of the major land-owners have joined together to contract with a private security firm to protect their property and lives in case of Reaver attack. That private security firm has its payroll delivered to one of the local banks.
There are a few time-share vacation spots here and there on Lilac. 10/10 would recommend.
Trivia
Appearances
Sources