New Firefly Special!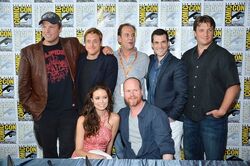 To celebrate the cult-favorite sci-fi drama's 10th anniversary, Science Channel filmed a new one-hour special chronicling the Firefly cast reunion at Comic-Con. The special — titled Browncoats Unite — included footage from the reunion panel, featuring several members of the original team including star Nathan Fillion and creator Joss Whedon.


The special premiered on November 11, 2012 on the Science Channel. Read more
Quote of the Week
Jayne: I married me a powerful ugly creature.
Mal: [dressed as Jayne's wife to lure bandits] How can you say that? How can you shame me in front of new people?
— Jayne Cobb and Malcolm Reynolds[src]
Featured article

Joe "Time Bomb" Henderson was the son of a mine owner, who was born in approximately 2493 and raised on a mining colony. Henderson had a fascination with explosives, and once nearly blew up both himself and his family's home, leading his father to take him to the mine foreman so the boy could learn from him. After learning all he could about blasting rock, Henderson continued his studies at college, taking courses chemical, mechanical, and civil engineering, but never attaining a degree. During one of the long commercial flights from his home planet to the college, Henderson met the captain of the starship Aces and Eights, Maxx Williams. By the end of the trip, Williams had hired Henderson as the ship's mechanic.
In 2518, the Aces and Eights was stopped on a planet while the famed gambler Jack Leland, the owner of the vessel, participated in a poker game. Captain Williams discovered that a bomb had been planted on the ship and called Henderson to aid in disarming it. The crew discovered the bomb had been planted by Tong assassins, who had also attacked Leland and his bodyguard, Hwa Ling. After they found the ship's electrical systems had malfunctioned, making it impossible for them to leave the ship, the crew were contacted by the Tong who were holding Ling hostage and threatening to blow up the Aces and Eights. In response, Captain Williams went to negotiate with the Tong, while Henderson worked on disarming the bomb. (Read more…)
---
Did you know…
---