New Firefly Special!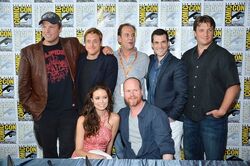 To celebrate the cult-favorite sci-fi drama's 10th anniversary, Science Channel filmed a new one-hour special chronicling the Firefly cast reunion at Comic-Con. The special — titled Browncoats Unite — included footage from the reunion panel, featuring several members of the original team including star Nathan Fillion and creator Joss Whedon.


The special premiered on November 11, 2012 on the Science Channel. Read more
Quote of the Week
Jayne: I married me a powerful ugly creature.
Mal: [dressed as Jayne's wife to lure bandits] How can you say that? How can you shame me in front of new people?
— Jayne Cobb and Malcolm Reynolds[src]
Featured article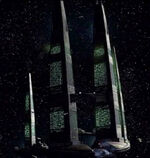 The I.A.V. Dortmunder was an Iskellian Technology Solutions Tohoku-class cruiser that served the Anglo-Sino Alliance in 2517. While on patrol in the Rim, the Dortmunder came upon a derelict Vanderdecken-class heavy cargo carrier. The wreckage of the ship was the target of an illegal salvage operation perpetrated by the crew of the Firefly-class transport ship Serenity. The crew, contracted by an individual named Badger, had been hired to steal cases of foodstuffs that had survived in airtight sections.
The commanding officer of the Dortmunder initially ordered the vessel's ASREV gunships launched to intercept and capture the transport. the Dortmunder then received a distress signal from a personnel carrier thirteen kilometers from their current location. The Captain countermanded his order to launch the gunships, setting course to aid the stricken ship. However, the call for help was actually a ruse perpetrated by the crew of the Serenity through the use of a cry baby—a piece of equipment rigged to transmit a fake distress call—to allow them to escape capture by the Alliance. (Read more…)
---
Did you know…
---