Nathan Fillion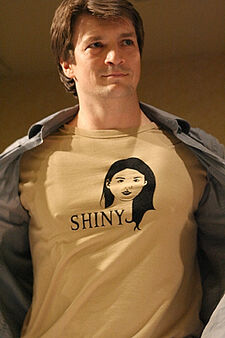 Statistics

Name
Nathan Christopher Fillion
Gender
Male
Date of Birth
March 27, 1971
Place of Birth
Edmonton, Alberta, Canada
Characters
Malcolm Reynolds
Nathan Fillion (born March 27, 1971 in Edmonton, Alberta) is a Canadian actor. He is reportedly a distant relation of Confederate civil war general Jubal Early.
After working in several theatre, television and film productions, Fillion moved to New York City in 1994. There he acted in the soap opera One Life to Live as Joey Buchanan, for which he was nominated in 1996 for a Daytime Emmy Award in the "Outstanding Younger Actor" category. In 1997, he left the series to pursue other projects. After moving to Los Angeles, he played in the sitcom Two Guys and a Girl, and he was "the wrong Ryan" in Steven Spielberg's Saving Private Ryan.
Fillion starred as Captain Malcolm Reynolds in the Joss Whedon science fiction television series Firefly in 2002, for which he won the "Cinescape Genre Face of the Future Award - Male" award by the Academy of Science Fiction, Fantasy & Horror Films, USA. He also had a recurring role as Caleb in the final season of Whedon's series Buffy the Vampire Slayer.
Fillion reprises his role as Reynolds in Whedon's movie Serenity (2005), and as a voice actor for Reynolds in Firefly Online.
He has also lent his voice to the cartoon King of the Hill in 2001, and the video game Jade Empire and the animated series "Justice League" (as "Vigilante" in episode: "Hunter's Moon") in 2005.
He has also been a guest star on Lost (episode "I Do").
He appeared in the horror film Slither.
He also appeared in the web series Con Man with Firefly co-star Alan Tudyk.
He played the title role on the ABC drama Castle, a show containing innumerable Firefly shout-outs and guest spots for Adam Baldwin, Jewel Staite and Summer Glau among other inhabitants of the 'Verse.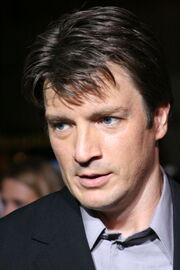 "The Rookie" (2018-present) as John Nolan
Halo 5: Guardians as Spartan Edward Buck (2015)
Halo: Reach, as GySgt Edward Buck (2010)
Halo 3: ODST, as GySgt Edward Buck (2009)
"Castle" (2009-2016) as Richard Castle
Halo 3, as Sergeant Reynolds (2007)
Slither (2005)
Serenity (2005)
Outing Riley (2004)
"Miss Match" six-ep TV guest appearance (2003)
"Buffy the Vampire Slayer" five-ep TV guest appearance (2003)
Water's Edge (2003)
"Firefly" TV series (2002)
"Pasadena" three-ep guest appearance (2001)
Dracula 2000 (2000)
Blast from the Past (1999)
"The Outer Limits" one-ep guest appearance (1999)
"Two Guys, a Girl and a Pizza Place" TV series (1998-2001)
Saving Private Ryan (1998)
"Maggie Winters" one-ep guest appearance (1998)
"Total Security" one-ep guest appearance (1997)
"Spin City" uncredited guest appearance (1996)
"One Life to Live" TV series (1994-1997)
Strange and Rich (1994)
Ordeal in the Arctic TV movie (1993)
A Conversation with Nathan Fillion
[
edit
|
edit source
]
This page uses material from the Wikipedia page Nathan Fillion.
Community content is available under
CC-BY-SA
unless otherwise noted.