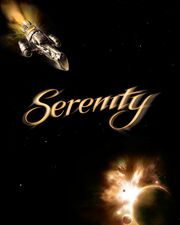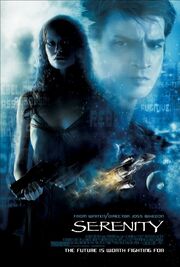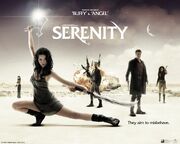 Joss Whedon, the Oscar- and Emmy-nominated writer/director responsible for the worldwide television phenomena of Buffy the Vampire Slayer and Angel, now applies his trademark compassion and wit to a small band of galactic outcasts 500 years in the future in his feature film directorial debut, Serenity.
Cast
(From IMDb.com. Subject to change.)
Behind the scenes
Jane Espenson, one of the writers of Buffy the Vampire Slayer and Firefly, announced in June 2003 at a Buffy convention in England, that Whedon was writing a script for a Firefly movie. Actors Nathan Fillion and Adam Baldwin confirmed this on the official Firefly forum, as did Whedon in several interviews. Universal Studios acquired the rights to Firefly.
On March 2, 2004, according to an article in Variety, the movie was officially greenlighted to enter production with a $40 million budget. Principal photography started on June 3, 2004 with a USA theatre release date planned for September 30, 2005. Joss Whedon said that the film would be released as Serenity, in order to differentiate it from the TV series. The 9 principal cast members from the television series all returned for the movie. On September 17, 2004 Joss Whedon announced on the official site that shooting had been completed.
According to an interview with Alan Tudyk, Serenity is the first in a three-picture Firefly contract with Universal.
Universal Studios took the unusual step of allowing early previews of the unfinished film. The May 5, 2005 previews were held in 10 cities, the May 26, 2005 previews were held in 20 cities, and the June 23, 2005 previews were held in 35 cities. An early preview was also held on the Gold Coast, Qld, Australia on Friday July 22, 2005.
A wrecked ship is shown with the registration numbers C-57D, a reference to the 1956 science fiction classic, Forbidden Planet.
A coffee maker seen in Serenity's dining room/kitchen is an F.A. Porsche Design coffee maker made by Bosch.
The initial scene aboard Serenity is shot in a single take and moves through many of the ships locations including the bridge, the corridor with the bedroom doors, the engine room, the lounge, the sick bay, and the main cargo hold. From the time the camera "comes through" the windows on the bridge to the time the camera cuts is 4 minutes, 24 seconds. This does not include the beginning of the "shot", which starts with the ship's name painted on her side and pans across her surface before going through the window.
According to the Q&A with Joss Whedon and the cast after the premiere at the Edinburgh International Film Festival, there were at least 20 separate takes of the final make-out scene between Simon and Kaylee in the engine room. Take #20 is the one used in the final cut.
Release dates
2005-09-29 The Netherlands (browncoats.nl)
2005-09-30 Canada and the USA (serenitymovie )
2005-11-02 Belgium and France (IMDb)
2005-11-04 Sweden, and the UK (IMDb)
2005-11-10 Australia (IMDb)
2005-11-11 Finland (IMDb)
2005-11-17 Argentina (IMDb)
2005-11-18 South Africa (moviesite.co.za)
2005-11-24 Czech Republic (IMDb)
2005-11-24 Germany (IMDb)
2005-12-02 Norway (filmweb.no)
External links