Welcome
[
]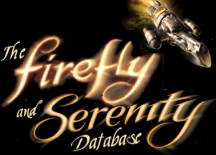 Hi, welcome to the Firefly Wiki! Thanks for your contributions.
Here's a wiki tip for you -- you can sign your name on talk/discussion pages by typing ~~~~ which automatically adds your signature and the date.
Please check out the Help:Contents for more tricks, and leave a message on my talk page if I can help with anything! -- Ozzel 11:22, 30 March 2008 (UTC)
Licensing
[
]
Heya there, I read your User Page and found that there is something you might want to verify. Any time you add original content to the Main Namespace of a Wikia wiki, the material is automatically released under the CC-BY-SA Licensing. If the content is copyrighted already, however, it is impossible for you to release it into public domain (only the copyright holder can do this). It can be uploaded however if Fair Use can be reasonably assumed. I understand this to mean that a screenshot from the show or a scan of a product does not belong to the person who took it (the uploader), but the copyright holder (owner/studio). Additionally, I'm fairly sure that the Multi-licensing guide you linked to does not apply on Wikia. For Wikia, "work which you do not hold the copyright to, or which is not available under this license [CC-BY-SA], should not be added to Wikia." Blue Rook  talk  contribs 22:07, October 6, 2010 (UTC)
Image copyright issues are why I included the phrase "unless otherwise stated" in my disclaimer. The idea is that any contributions to which I would be entitled copyright are not only available under whatever licensing a wiki might use, but are even more generally available as released to the public domain by me.
For example, the image posted to this talk page by Ozzel's greeting is presumably originally copyright to its creator (Scarecroe); but it is also a derivative work since it contains an image of Serenity which is itself copyright by Fox and/or Universal. The use of such a small image as part of this site's logo is however fair use as I understand it. (The fonts are not an issue, since fonts may not be copyrighted in the U.S.)
The link to the Wikipedia page is for an overview of the interaction of multiple licenses, not because said overview is actually policy per se on any wiki.