Welcome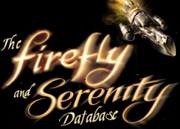 Hi MarieBellaCullen1921, welcome to the Firefly Wiki! Thanks for your edit to the File:Professer.jpg page.
Here's a wiki tip for you — you can sign your name on talk/discussion pages by typing ~~~~ which automatically adds your signature and the date.
Please check out the Help:Contents and the simplified ruleset for more tricks and advice, and leave a message on my talk page if I can help with anything! -- Grunny (Talk) 06:04, 2010 October 27
Professor Rao
Hi! Thanks for your contribution. However, I was wondering where you got the teacher's name—Professor Rao—from since its not in the movie itself. I was thinking it may be from the novelization. Can you let me know, so we can properly sourced and tag the article. Thanks in advance. - Cavalier One
(From here to the eyes and the ears of the Verse) 09:17, October 27, 2010 (UTC)
Community content is available under
CC-BY-SA
unless otherwise noted.